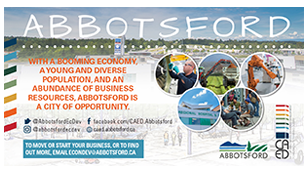 NEWS RELEASE: CITY OF ABBOTSFORD ECONOMIC DEVELOPMENT PARTNERS WITH THINK CANADA 2018 FOR INVESTMENT ATTRACTION
Think Canada is proud to announce City of Abbotsford, Economic Development as a partner for the Think Canada 2018 Global Business Summit. City of Abbotsford, located in British Columbia, is a forward-thinking Canadian community and a prime location for progressive business owners. The economy has a strong and diverse business climate with a competitive, supportive and flexible environment. The opportunity for growth and investment is aligned with a high standard of living and has strong, expanding business opportunities.
Abbotsford has one of North America's most competitive, flexible, and supportive business climates. The city offers investment opportunities in many industry sectors. It has one of the most diverse economies in Canada, with room to grow. Some of the key opportunities are in agriculture, aerospace, niche manufacturing, along with film and digital media. The diversity of opportunity makes Abbotsford an attractive location for business owners, including those looking to expand into the Canadian market.
Abbotsford also boasts some great 2017 community awards which include one from the Economic Developers Association of Canada (EDAC) for Marketing in Canada, as well as an award from the Union of BC Municipalities (UBCM) for Community Excellence.
Think Canada is excited to be working with the City of Abbotsford, Economic Development team to showcase the community on a global scale and welcome new businesses to continue growth and success.